Free demo
You can use the online webstore demo, which is accessible to everybody, or apply for a personal demo of the e-Shop.
All the changes you make on the management screen of the webstore will be visible immediately; so results can be seen straight away.
View what your user's see via:
http://demo.123webshop.net/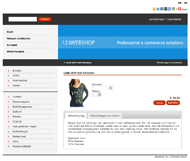 Test out the management page via:
http://demo.123webshop.net/admin/
Try 123WEBSHOP For Free!
If you would like to test the software for the web shop at greater length, please apply for your free shopping cart solution!

You will be able to try out our '30 day - no obligation' webstore solution.

Within minutes your web shop will be up and running and you will be ready to get started.