Manage Your Online Shop
A good management system is essential in managing your web shop.
123WEBSHOP comes with an extensive and clear management screen.
This allows you to easily manage everything in your web shop.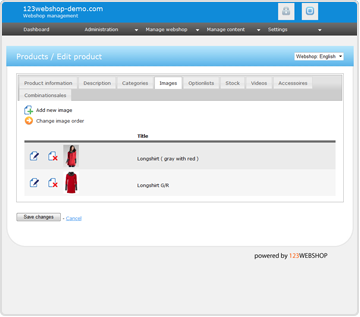 Manage Products
Product Description
With the word processor you can create a professional looking description using your own layout and illustrations.
Add Illustrations & Videos
You can add an unlimited number of illustrations and videos to a product.
Selection Lists
Using the 'list of choices' tab, you can create an unlimited number of options that your clients can choose from. E.g. sizes and/or colors.
Stock
You can keep track of your stock at various levels. It's also possible hide products that are no longer in stock.
Manage Orders
All orders are clearly displayed.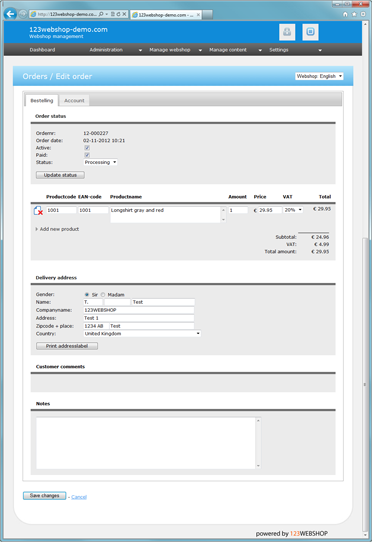 Order Status
The status of an order is clearly displayed and can be changed.
Orders
The order is clearly displayed with products and total amount.

Notes
Any notes from the customer will be displayed here, you can also add notes yourself.

Packing List & Order Summary
You can view and print a packing list and/or order summary.

Address Labels
If you own a Dymo Labelwriter you can print an address label with just one click.
Content Management
The shopping cart software also has various options to provide your clients with additional information.
Your eCommerce solution comes as standard with the following modules:
Text Pages
Create and change information pages with the easy word processor.
File Manager
Efficiently manage your files, such as photos and PDF documents.
Forms
Create and manage forms with fields of your choice, no technical knowledge required.
Manage The Menu
Total control over the order and content of the items in the menu.
Photo Albums
Display product lines in detail using the photo album feature.
News
Keep your clients informed by using the news module.
Links
Conveniently handle links to other websites, including categories.
Frequently Asked Questions
Inform clients about frequently asked questions, including categories and search function.